Get started
You won't regret it!
Going to Try Outs may seem intimidating, but with Pete's expert guidance you'll be feeling great on the ice faster than you could have ever expected. Learn all the Mental Skills and Confidence needed to tackle the most daunting Try Out's.
Follow your dreams
You won't regret it!
The path to making teams takes can be intimidating, but if you put your mind to it, you'll have no problem becoming one of the best. What are you waiting for?
1

2

VIDEO: VIDEO OF AN ACTUAL TRY OUT/TRAINING CAMP PREPARATION SESSION

VIDEO: TRY OUT/TRAINING CAMP ACTUAL PREPARATION SESSION

3

Bonus Goalie Affirmations

The Bonus Audio Goalie Affirmations

4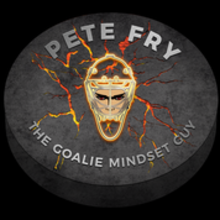 Pete Fry "The Goalie Mindset Guy"
Pro Goalie Mindset Coach
Skills
Include a list of items to support the central theme of your page. Bulleted lists are a great way to parse information into digestible pieces.
First Impressions

Confidence

Clear Picture Of Your Outcome

Communication

Visualization

Standing Out
Let's get started!
Click below to sign up!